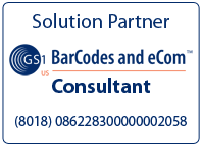 GS1 Solutions Partner

Agri Label & Tag is endorsed by GS1 US as their Certified Solutions Partner.
During the fall of 2010, we attended and completed the GS1 solutions partner certification program at their US Headquarters in New Jersey.
Agri Label & Tag offers over 30 years experience specializing in pressure sensitive labels and tags for America's Agriculture Community. We specialize in Produce Traceability Labeling and are endorsed by GS1 US as their Certified Solutions Partner.
We realize that the hard working Growers and Packers are being pressured by their retail customers around the world to affix PLU labels, UPC and GS1 Databar barcode labels to their produce before it's delivered to distribution centers and retail grocery stores.
January 1st, 2011 is the sunrise date for the implementation of standardized labeling practices within the produce industry. It is expected by 2012, the entire supply chain including growers, distributors and retail stores will have implemented these standard labeling practices. Produce traceability will soon be required at the case level and we are ready.
We at Agri Label & Tag are committed to the growers, packing houses and shippers across the country to assist with their labeling needs. Our printing process enables us to provide you with quality, custom imprinted labels & tags at on the shelf stock prices. You don't have to be concerned about paying for printing plates, press set up or composition charges. We will supply as many or as few labels and tags you need when you need them.
You may have lost retail customers in the past because you could not afford to pay the high price for custom printed PLU labels or UPC barcode labels. Agri Label & Tag will help you get those customers back and gain new customers at the same time.
Now, you can label your produce, cost effectively, and gain more customers too!
Every order is custom imprinted per your specifications at on the shelf stock prices. You will not pay extra production charges when you order from Agri Label &Tag.
You only pay for Labels!
Need Labels Fast?
Give us a call, perhaps we can ship your label order the same day!
We offer quick delivery service!
Agri Label & Tag, LLC
P.O. Box 635 • 357 E. Washington St.
Frankfort, IN 46041
PHONE TOLL FREE: 1-866-401-3944
email: [email protected]
email: [email protected]
Season Hours: May 1st through October 31st.
Open Monday through Friday 7am – 4pm Mountain time.
Off Season Hours: November 1st through April 30th.  Open Monday through Friday 8am – 1pm Mountain time.